Toyota Tundra Towing Capacity Chart By Year
If you need a new truck for towing and are looking for a reliable, well-equipped, extra-strong partner, you're probably interested in the Toyota Tundra towing capacity. To help you find the best Toyota truck for towing what you need to haul, we've put together a Toyota Tundra towing guide that tells you how much each used or new Tundra can tow.
Whether you're interested in the 2023 Toyota Tundra towing capacity or the 2020 model's capacity, read on so that you can make an informed truck-buying decision.
And If you have any further questions about the Toyota Tundra towing capacity, please don't hesitate to reach out to our sales team. We're here to answer your Tundra-towing questions.
Toyota Tundra Towing Capacity Chart



Toyota Tundra Towing Capacity Chart




Year

Capacity

2023
8,300-12,000 pounds1
2022
8,300-11,270 pounds1
2021-2020
8,800-10,200 pounds1
2019-2018
6,400-10,200 pounds1
2017-2015
6,400-10,500 pounds1
2014
4,000-10,500 pounds1
2013-2011
4,500-10,400 pounds1
2010
4,800-10,800 pounds1
Used Tundra Trucks Tow Just as Well
The Tundra has been a popular Toyota truck for sale for many years now because of its performance capabilities. If a Toyota Tundra from the last decade has caught your eye, be sure to browse our inventory of pre-owned Toyota Tundra trucks for sale. You'll find a wide selection of popular models, like the 2015-2017 Toyota Tundra that can haul between 6,400 and 10,500 pounds.1
Make Full Use of Your Toyota Tundra Towing Capacity
Now that you've seen our Toyota Tundra towing capacity chart, you should have a better understanding of which model years you should target to ensure you can trailer everything you need.
For the 2023 model year, the new Toyota Tundra arrives in a menu of attractive trim models equipped with advanced safety features and connected audio integration systems to help you enjoy a safe ride and stay in touch with your world.
The 2023 Tundra SR comes standard with the Toyota Safety Sense 2.5 suite of advanced safety systems. The integrated backup camera is there to help you reverse out of tricky situations and line up your trailer hitch when you have dirt bikes and personal watercraft to tow.
If you're someone who likes to take advantage of the weekend and bring a few toys along for the ride, you'll love what the Toyota Tundra towing capacity can do. Since the new Tundra can tow between 8,300 and 12,000 pounds,1 you can easily bring along a 5,000-pound speedboat and have room to spare for a few other bits of kit.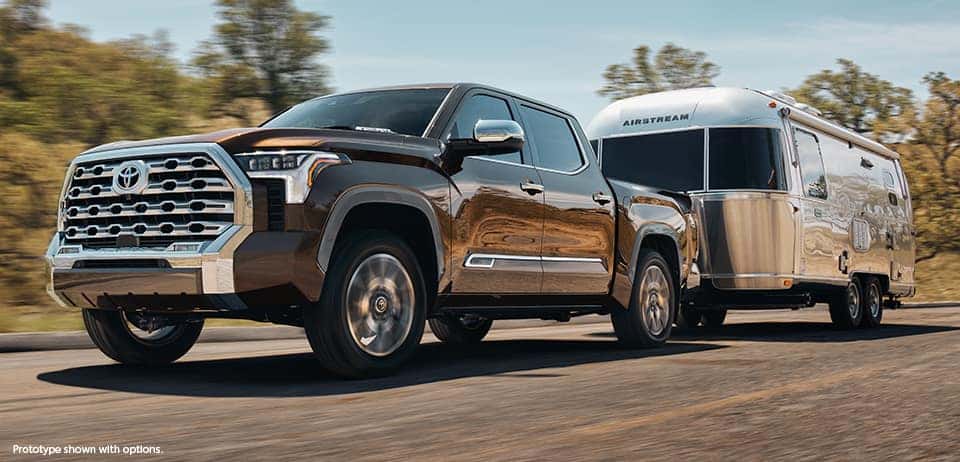 How Much Is 12,000 Pounds, Really?
The 2023 max Toyota Tundra towing capacity is a whopping 12,000 pounds,1 but what does that mean? What do 12,000 pounds in motion look like? For some perspective, let's look at some heavy things.
An adult male giraffe can weigh up to 4,250 pounds. That means the new Tundra can tow up to 2.82 giraffes. A hippopotamus weighs just over 8,000 pounds. How much can the new Tundra tow, you ask? At least one hippopotamus. As far as more practical examples are concerned, here are a few common items that often find themselves towed behind a new Tundra truck:
Recreational vehicles (RVs)
Mobile homes
Construction equipment – bulldozers, tractors, cranes
Building materials – concrete, sand, gravel
Garbage – everything left behind at the job site
Large watercraft – speedboats, catamarans, sailboats
And to give context for our metric system friends, the 2023 Toyota Tundra towing capacity kg varies from 3,765 to 5,443 kg,1 depending on the configuration.
As you can see, the Toyota Tundra towing capacity is designed for work, play, and everything in between.
Dashboard Warning Lights for Towing
Your new Toyota Tundra includes a vast array of dashboard warning lights and indicators to let you know if the systems on your vehicle are functioning normally or experiencing an error. Some of the Toyota dashboard symbols have to do with towing. Depending on the year, trim model, and how your new Tundra is equipped, you might see warning lights that tell you the hill descent control or that elements of the standard tow package are activated.
Your new Tundra may also include an Integrated Trailer Brake Controller monitoring screen. This advanced monitor works together with your trailer's electric braking system. It helps you maintain full control by adjusting brake pressure to the trailer based on the amount of weight in tow. Before you get out there and tow with your new Tundra, we recommend learning the dashboard warning lights so that you'll know if anything stops behaving correctly.
How much can you pull with a Toyota Tundra?
The Toyota Tundra has been a popular full-size truck for quite some time, and the range of towing capabilities and equipment certainly play a part. The 2023 Toyota Tundra can tow between 8,300 and 12,000 pounds.1 To help you find the new Tundra truck that meets all of your towing needs, please see our towing chart above that compares the Toyota Tundra towing capacity by year.
Which Toyota Tundra is best for towing?
The best Toyota Tundra for towing depends on your needs. The 2023 Toyota Tundra can tow between 8,300 and 12,000 pounds,1 depending on its configuration. To find your best Tundra for towing, consider the weight rating you'll need. Even if it's the Tundra that's rated the highest, there may be better options for your lifestyle. That said, the rear-wheel-drive Tundra SR and SR5 typically deliver the highest towing capacity of the lineup.
What does the Toyota Tundra tow package include?
If you're interested in the Toyota Tundra towing capacity, you'll want to take a look at the features included with the new Toyota Tundra tow package. The following features will help you get towing with ease: a 102 towing hitch receiver, TOW/HAUL Mode switch, Integrated Trailer Brake Controller (ITBC), optimized rear-axle ratio, 170-amp alternator, 4/7-pin connector, and a 92 heavy-duty battery.
Shop the New Tundra at Toyota of Irving
We hope we've helped you discover more about the Toyota Tundra towing capacity. If you have any questions about how much the new Tundra can handle or want to take the redesigned 2023 Tundra truck on a test drive, please don't hesitate to contact our dealership.
---
---
Further Your Toyota Research In Irving, TX:
---
1Before towing, confirm your vehicle and trailer are compatible, hooked up, and loaded properly and that you have any necessary additional equipment. Do not exceed any Weight Ratings and follow all instructions in your Owner's Manual. The maximum you can tow depends on base curb weight plus the total weight of any cargo, occupants, and added vehicle equipment. "Added vehicle equipment" includes additional standard/optional equipment and accessories added by the manufacturer, dealers, and/or vehicle owners. The only way to be certain of your vehicle's exact curb weight is to weigh your vehicle without passengers or cargo. [Calculated with the new SAE J2807 method.] Installation of a tow hitch receiver or other accessories located near the rear bumper or side-door kick sensors may require disabling or removing the kick sensor, and the sensor operation setting in your vehicle should be turned off. See Owner's Manual for limitations.