Ford F-150 Vs. Toyota Tundra: Trim Levels, Towing Capacity & Features

This Ford F-150 vs. Toyota Tundra comparison page is going to tell you just about everything you've ever wanted to know about these two legends in the pickup truck segment. Both have their strengths. Both will edge the other one out in certain categories. And for those that say the Toyota Tundra is dated, we think reading our 2022 Toyota Tundra redesign page will stamp that silly idea under its specially tuned off-road suspension package (among other new awesomeness). Read on and get the gloves on because this Ford F-150 vs. Toyota Tundra comparison page is about to get dirty (both brands offer extreme off-road packages).
Ford F-150 vs. Toyota Tundra Trim Levels
Let's face it; both of these pickups are legendary classics. Both will give you opulent luxury if you want it. Both will provide you with hose-it-out utility if you need it. And both of them can be armed to the hilt for battle with the untamed expanses of open country. So what are the trim levels that help you dial in the performance? Let's take a look:
Ford F-150 vs. Toyota Tundra Trims: FORD
Ford F-150 XLT
Ford F-150 Lariat
Ford F-150 King Ranch
Ford F-150 Platinum
Ford F-150 Raptor
Ford F-150 vs. Toyota Tundra Trims: TOYOTA
Toyota Tundra SR
Toyota Tundra SR5
Toyota Tundra Limited
Toyota Tundra Platinum
Toyota Tundra TRD Pro
Which one is best? Best is a highly subjective word, so it comes down to how you mesh with brand values. How do we feel about the Ford F-150 vs. Toyota Tundra? Sure, we're a little biased. But for our money, legends are built in the dirt, and it's the Toyota that has more class wins in the Baja 1000 than anything else we can think of. So whatever pickup truck you decide to buy, we hope that your plans include making it home. Toyota pickups will make that happen.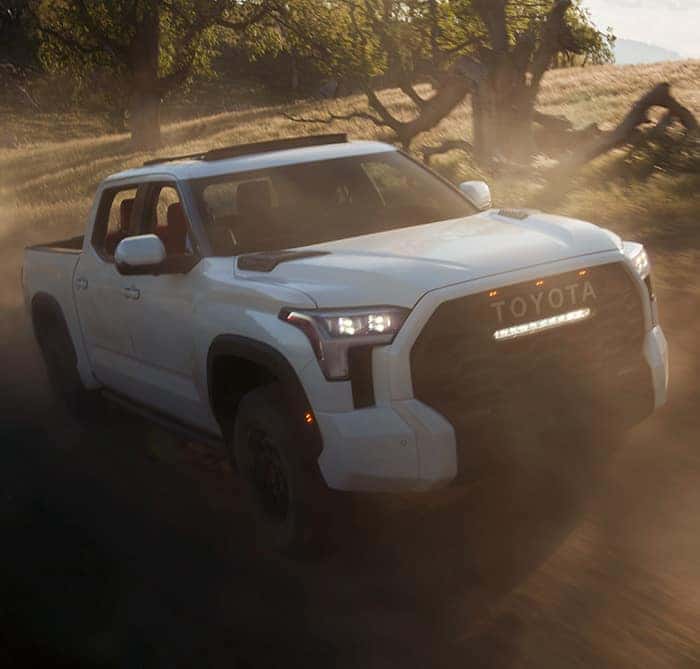 Ford F-150 vs. Toyota Tundra: The (Power) Struggle Is Real
Ok. So now we're down to it. What's under the hood? What's under the frame? What's under your foot? As a brand that prides itself on turnkey reliability for the long haul, the Toyota Tundra uses a proven 381-hp 5.7L V-8 paired to a six-speed automatic transmission on all models. RWD is standard, and 4WD is an option.
Ford pickups will offer flexibility. But our take on that is, they'll try to keep the price down. And give you less than adequate performance as a consequence. To get anything meaningful out of the Ford F-150, you'll have to pay extra for the V-8.
So, where does that put you with the Ford F-150 vs. Toyota Tundra in terms of pulling power? When properly equipped, the Toyota Tundra can haul up to 10,200 lbs of fun behind it, while the Ford F-150 will make you pay extra for the engine that can beat the Toyota Tundra & tow up to 11,300 lbs.
FAQs Beyond the Ford F-150 vs. Toyota Tundra Towing Capacity
Now that we've listed the ways you can style and customize your pickup, we've also got a sense as to what these bad boys have under the hood. But we all know there's more to owning a pickup truck than just power and style. But if you want to do a deep dive on towing, you can do so on our Toyota Tundra towing capacity spec page. That aside, here's a list of other helpful insights to the many questions we get down here at our Toyota Center:
Is the Toyota Tundra bigger than the Ford F-150?
The answer to this question depends on how you put yours together with your chosen cab, bed length, and so on. The Ford F-150 can be anywhere from 209.1″ to 250.3″ long, while the Toyota Tundra starts at an impressive 228.9″ and stretches out to 247.8″.
How long will a Ford F-150 last?
There's an acronym out there for Ford. But all kidding aside, the Ford F-150 is a really solid truck. You should expect to get anywhere from 150k to 300k miles out of one, but keep in mind that so much depends on service, usage, and how many times you launch yours over 40′ sand dunes.
How long will a 5.7L V-8 Tundra engine last?
Travel anywhere south of the border or into an area where you can't even see borders. Chances are, you'll come across Toyota vehicles before you even find a town. When parts and service centers are hard to come by, people need to bet on a horse they know will go the distance. So much depends on owner maintenance and usage, but many Toyota Tundra V-8s see well over 400k miles with just routine oil changes, tune-ups, and quality fuel.
Ford F-150 vs. Toyota Tundra: Parting Thoughts
The future is coming. Both brands will be there. And both brands are offering revisions of their tried-and-true champions. The team at Toyota of Irving, your future-ready Toyota dealer in Dallas, is pleased to announce that the 2022 Toyota Tundra offers a total revision with bold new looks and plenty of refinement that should assuage the cries for modernizing a well-storied classic. On the other hand, the 2022 Ford F-150 Lightning is also one to watch. Final production specs remain to be seen with an all-electric take on this brand staple. Perhaps we'll have another Ford F-150 vs. Toyota Tundra comparison page for the 2022 model year in the near future!
---