Schedule Toyota Service Near Dallas, TX
Schedule Toyota Service Online Anywhere in Dallas or Fort Worth | Toyota of Irving
Toyota of Irving offers customers in the Dallas-Fort Worth Metroplex easy online Toyota Service Scheduling. Use our online form to schedule Toyota Service for your Toyota Camry, Corolla, RAV4, Tacoma, Tundra, Sienna, Highlander, Prius, Yaris, or Avalon anywhere in Dallas, Fort Worth, Grapevine, Arlington, Coppell, Flower Mound, Las Colinas, Grand Prairie, Carrollton, Hurst, Euless, Bedford, North Richland Hills, Keller or The Colony. Residents of these cities can schedule Toyota Brake Service, Oil Change, Transmission Service, and more online anywhere in the DFW Metroplex. A member of our staff will call you to confirm the appointment and get you into our Toyota Service Department as soon as possible. The Toyota of Irving Service Center proudly serves North Texas residents!

Schedule Your Service Fast at Toyota of Irving
We know that your life is busy. That's why we are making it easier than ever to schedule your next appointment at Toyota of Irving. Schedule your vehicle's service appointment in less than a minute and visit us today in the Irving, TX area.
Fast Service Scheduling That You'll Love
One of the biggest complaints that some people have at other service centers is the hassle of having to schedule an appointment. That's why we have set up this simple schedule page that makes it really easy to book your Toyota's next service. Here's how it works: start by registering your account. This will only take a minute. After you have set up your account, you will be able to schedule all of your following appointments in mere seconds.
Scheduling your following appointments simply requires telling us your vehicle's make, model, model year, and current vehicle mileage. After we have received your vehicle's information, we can give you a selection of services for your Toyota. Select which service you would like to have performed at your next visit. Also, you can also select whether you would like to have a pick-up service arranged for your vehicle. Finally, select your vehicle's appointment time and you are finished. As you can see, you don't have to wait on the phone or deal with some complicated process. We are always looking for ways to make things easier for you.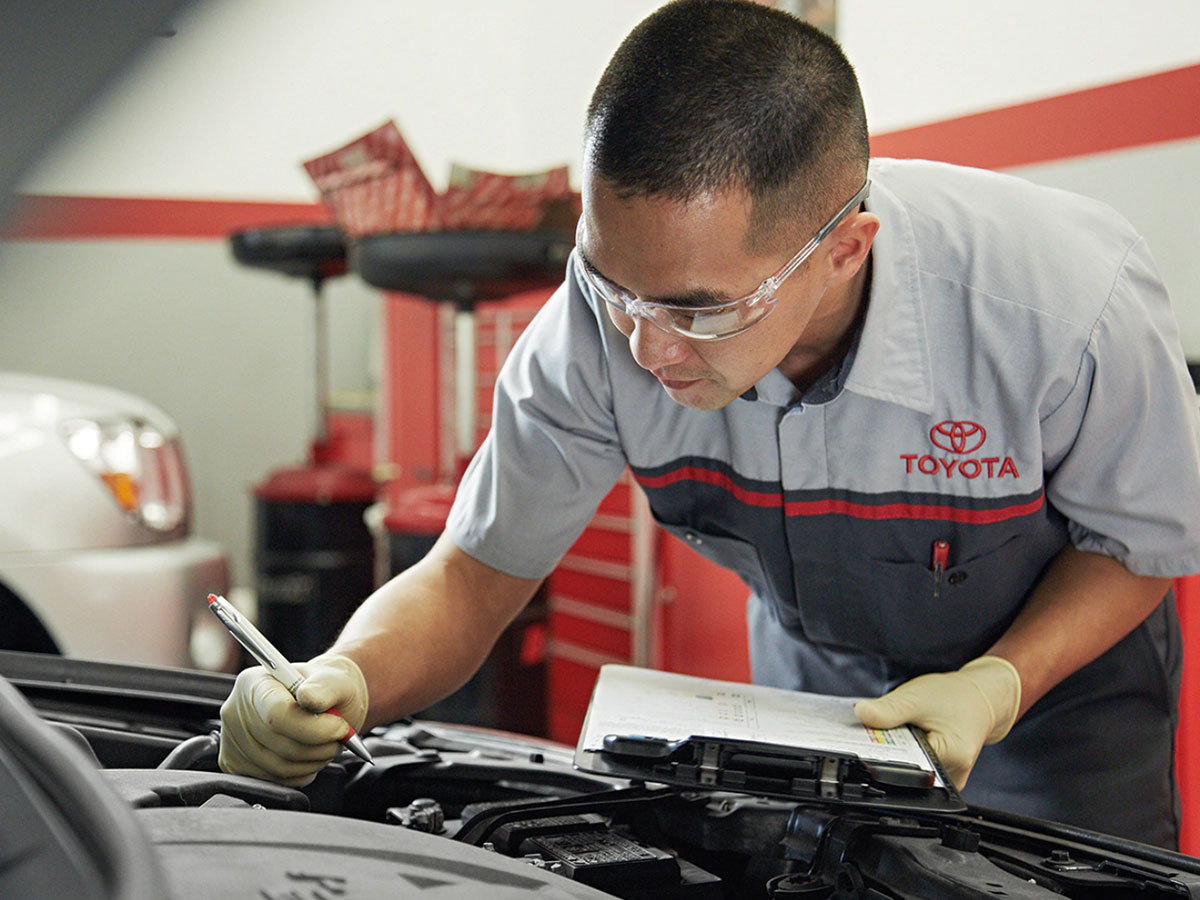 Service You Can Trust
When it comes to delivering for your Toyota, you can always trust our service center and customer service center team. We have a system in place to ensure that your vehicle's service gets done as quickly as possible. Our Toyota certified technicians work with the latest tools and equipment. Also, our customer service specialists will do what it takes to make your visit as comfortable as possible. Finally, you can always rely on our service center's management team to move things along and ensure that everyone is working together to complete your vehicle's service on time.
Your Time is Important to Us
Don't have time during your day? At Toyota of Irving, we have extended hours Monday from 9 AM to 9 PM and Tuesday thru Friday from 8:30 AM to 9 PM. We are also open on Saturday from 9 AM to 7 PM to ensure that you get the service that your Toyota needs at your convenience.
Schedule Your Service at Toyota of Irving Today
Once you discover how easy it is to schedule your appointment at Toyota of Irving, you won't want to go anywhere. Be sure to schedule your next vehicle service online or by phone today. Our service center team is always ready to assist you.