Welcome to
Toyota of Irving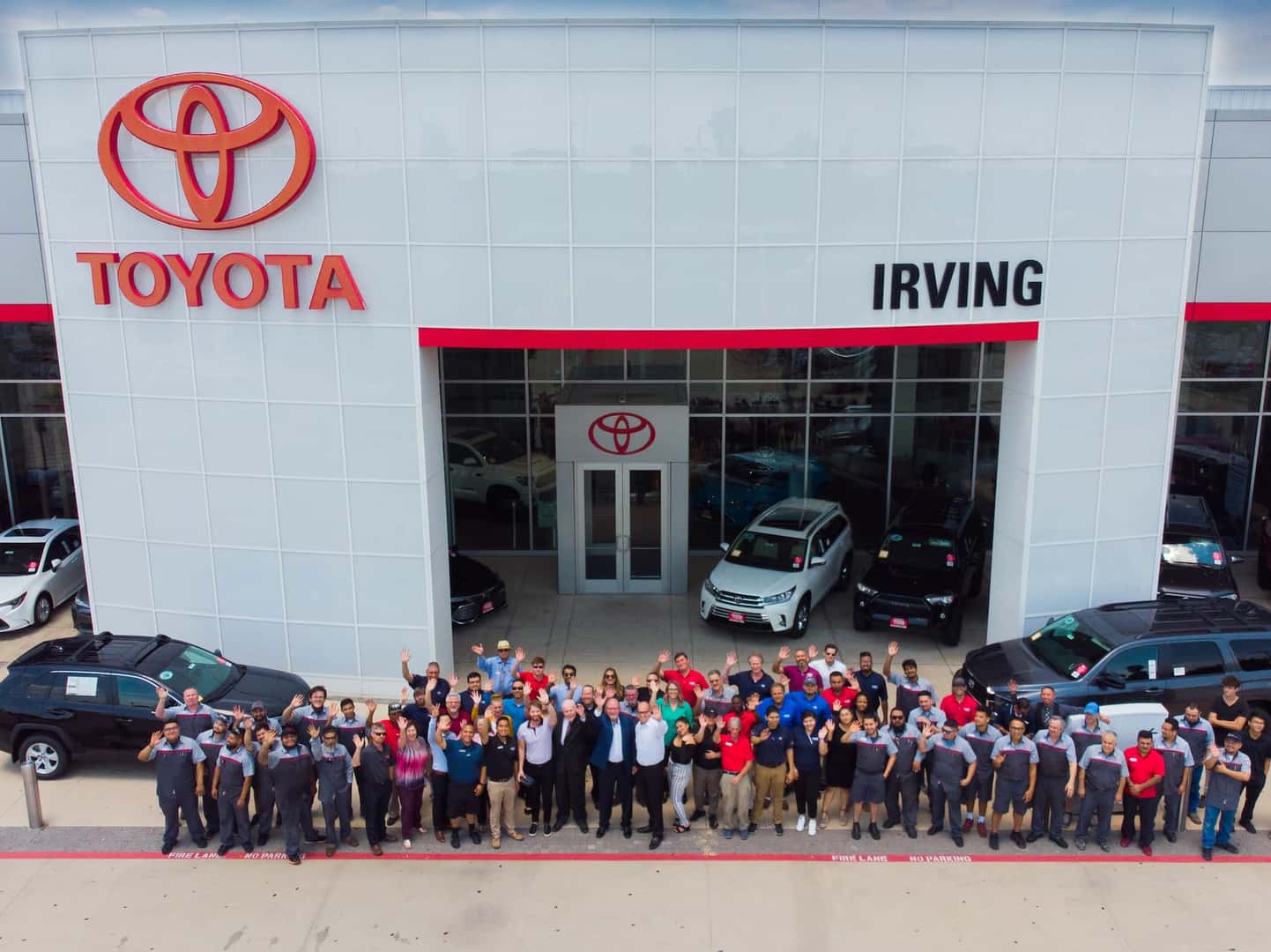 Toyota Of Irving: New & Used Toyota Dealership Serving Irving & Dallas, TX
Welcome home! The hardworking staff here at Toyota of Irving is proud to welcome you to our state-of-the-art Toyota dealership. We know that you have many options for a DFW Toyota dealer to visit, so let us show you why choosing us was the right decision.
You may or may not know that we've been in business for over 50 years, but did you know that this number makes us the oldest privately-owned Toyota dealer in Dallas? In fact, that accolade extends to all of North Texas. So, how have we maintained our status as a top-notch Toyota dealership for all this time? Let us show you!
Toyota Service
When you get a new Toyota vehicle, chances are your mind is fully occupied on hitting the streets of Dallas, TX, and impressing everyone on the High Five Interchange rather than thinking about your first Toyota service appointment. We offer valuable service & parts specials ready to be saved right to your mobile device. We get it. Sitting and waiting for an oil change or dent repair isn't quite as glorious an activity as washing and spiffing up your brand new Toyota vehicle while in a bathing suit and basking in the warm Texas sun. Your neighbors don't get to stare on with envy while you're doing the former, after all. With us, however, service appointments are easy (and are even worthy of envy themselves).
Our service department is here to get you in, out, and back on the roads safely in no time. However, our digital service hub is also here to serve as a tool for all your service needs and inquiries. Have questions about your air filter? Want to know more about your Toyota oil change options? Need to check in on the latest recalls? Our service hub is the place to get all of that information and more. And, for the more anxious car owners among us, you can easily schedule service using our convenient online tool. Just tell us your make, year, model, and the service you need, and we can get it set up for you. We told you it's easy!
New Car Deals, Trade-Ins, & Used Cars
What would a car dealership be without incredible new car deals? Our Toyota showroom is stocked with the latest and greatest of Toyota vehicles, each with the most attractive price tags in all of Irving, TX. You get your pick of the bunch from snazzy sedans like the new Toyota Camry to tough trucks like the Toyota Tacoma.
And, when you're ready to take one home, we offer deals on both leases and purchasing to fit your financial situation. There is a lot that can go into buying a car, and it isn't always self-explanatory. That's why we also offer tools to help you help yourself and understand what your final purchase might look like.
For example, if you want to trade in your car, we have another easy online tool that can help you value your trade. Opting to do business with a trade-in saves you money and makes the entire process easier. Knowing the approximate value of your trade-in can help you strategize your payment options when you come to purchase or lease your new vehicle.
Speaking of leases, our Toyota Corolla lease options are among our most popular leases in-store. When you combine these lease offers with your trade-in value and knowledge, you'll always have the upper hand. You never knew leases could be so affordable!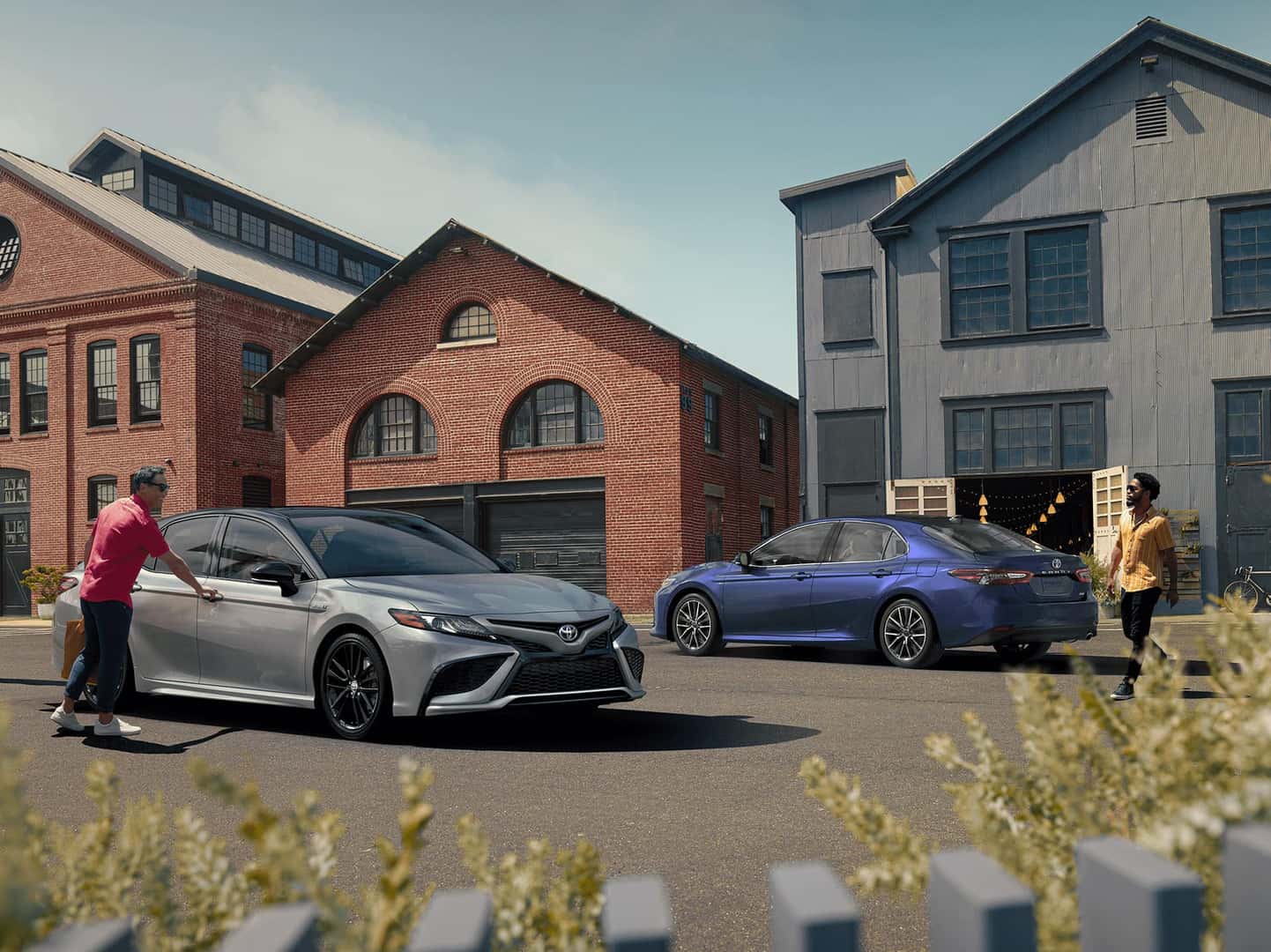 Used Cars Need Love Too
Where would the automotive industry be if not for the pioneers of years long (or short) passed? The sedans, trucks, and minivans of the past have paved the way for the incredible world of innovation that we see in the current model years. We are a leading used car dealership near you. That's why we pay great respect to all used vehicles in our pre-owned selection! Our used models are treated with incredible care and showered in love before they're ready to go out to you. We inspect them thoroughly, and detail, re-condition, and road test every vehicle before it's even posted into our inventory. So, if you come to us eyeing a used Corolla, you know that even the tiniest mechanism is in great shape, and it's ready to go on any North Texas highway.
Express Car Buying
We're living in the future, and in this future, you can conduct the entire car-buying process, from research to delivery, 100% online. We know we've already talked about a few convenient tools we offer, but Express Car Buying is the icing on the convenience cake.
You start by browsing our selection of Express Buy vehicles. From there, you can either choose the existing one you want or build your very own! If you need, a Product Specialist will be available to answer your questions.
After you've made your final decisions on what vehicle you want, you can view our instant upfront pricing. This is another place where our amazing new car deals come into play. We'll also take your trade-in into account here and send you a deal sheet that shows you everything you need to know, including lease alternatives!
Finally, we'll gather the appropriate documents, like your driver's license and insurance, and send you a final deal sheet with approved numbers. Then, we'll set up a delivery time that works best for you. If you do have a trade-in, we'll pick that up when we deliver your new vehicle!
A Tip-Top Toyota Dealership
Of all Texas Toyota dealers, we're proud that you chose us as your go-to Toyota dealership. We care about our cars, but we care about our customers even more. That's why we also offer service coupons, easy financing solutions, and more to help make your purchase affordable and easy. So, what do you need from a Toyota dealership? More importantly, what do you want from a Toyota dealership? Let us know because we're here to make it happen.