2022 Toyota GR 86: Specs, Features


Join Our Waitlist
The gorgeous 2022 Toyota GR 86 has finally been revealed by Toyota, albeit in a limited capacity that has left speed demons seeking a new fast-paced 2022 Toyota GR 86. So finally, this rear-drive sports car has made a splash.
If you want one, we urge you to come to Toyota of Irving and reserve yours now because they will be sold as fast as we get them.
2022 Toyota GR 86 Specs & More
Due to the fact that we don't have an official 2022 Toyota GR 86 on the lot right now, we're lucky enough to have some of the 2022 Toyota GR 86 specs on hand for those interested in how this particular Toyota engine gets up to speed. Toyota's newest two-door coupe makes a statement anywhere you take it, thanks to a new, larger flat-four Toyota engine that mirrors the setup found in the 2022 Subaru BRZ, along with various chassis improvements and a six-speed standard manual transmission. A six-speed automatic transmission is optional as well, adding to the plethora of Toyota GR horsepower in stow every time you get behind the wheel.
It all comes together for an engine that produces an estimated 228 horsepower and 184 pound-feet of torque, which is an impressive improvement from previous models. When you drive the 2022 Toyota GR 86, it won't be just what's under the hood that enthralls you. Enjoy a cabin that's full of wireless connectivity and a super helpful infotainment touchscreen, not to mention several exciting exterior colors that will let everyone know you're showing up in style. If you are interested, come by our showroom and reserve your GR 86 ASAP.
Frequently Asked Questions About the 2022 Toyota GR 86
Signing up for a sports car that can perform with the best of them without crushing an entire saving is something we all dream of. This groovy go-getter draws a lot of questions everywhere it goes, and our showroom staff members have put together a couple of common questions we often hear from local drivers just like you.
Is the 2022 Toyota improved in 2022?
The GR 86 sells as fast as we get them. Buyers need to reserve theirs ASAP. However, previous models of the Toyota 86 and similar cars from Toyota that pack quite a bit of pep in their step are available now at our dealership.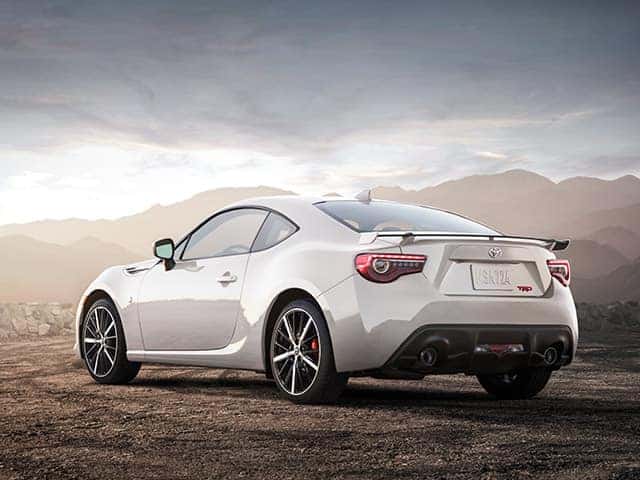 When did the Toyota 86 come out?
Born as a collaborative effort between car manufacturers Toyota and Subaru, the Toyota 86 was introduced back in 2013 under a completely different moniker: the now-defunct "Scion FR-S." The first release, much like the cars that followed and even the upcoming model, is similar to its sister car from Subaru: the low-cut and speedy Subaru BRZ. A rear-powered sports car that was attainable for a lot of the market was the goal, and when the 2022 Toyota GR 86 release date gives us another version of this collaboration, yet another vibrant vehicle will serve as another success for this melding of the minds.
Is a Toyota 86 fast?
Track tests on the Toyota 86 have indeed shown that it can go fast. The top speed off the production line is reportedly 140 mph, and experts estimate that the car can do 0-60 mph in around six seconds or so when equipped with the six-speed manual transmission. The new 2.4-liter flat-four Toyota engine isn't just for show. See if it's your speed when this road-racer drops. But, of course, we insist that you obey speed and traffic laws at all times.
How much will the GR 86 cost?
Toyota has priced this coupe to start around an expected price of $31,000 MSRP, with additional trim levels to follow. For such performance, it's quite the value. Compare this scintillating speedster to various models of all kinds, including sedans and SUVs, using our new Toyota cars for sale section.
---