Toyota Rebate for College Graduates in Irving, TX!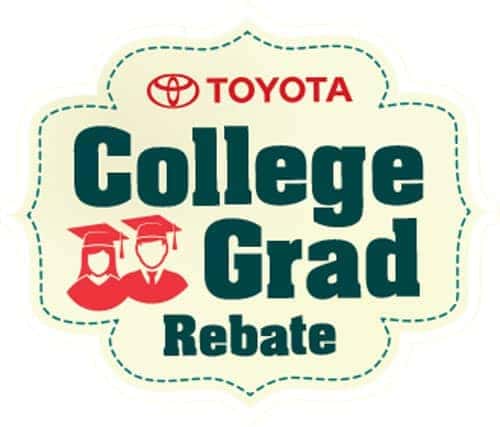 Did you recently graduate college or are you about to in the next few months? If so, we have the perfect deal for you! Take advantage of the hard work that you have put in over the past few years during school and use it to qualify for the College Grad Rebate that Toyota of Irving is offering!
Toyota of Irving College Grad Rebate
Toyota of Irving is offering a $500 rebate for recent college graduates when they purchase or lease a new Toyota vehicle! This unique deal is a great way to finally purchase your own vehicle while also saving some money along the way.
In order to qualify for this rebate offer, customers must have proof of graduation in the past two calendar years or in the next six months and proof of current employment. This $500 rebate can be used on all new unlicensed Toyota vehicles when you finance or lease through Toyota Financial Services (TFS). Depending on your finance program, you could have no payments for 90 days!
Once you have your Toyota vehicle picked out, talk to TFS and learn about the option packages that you can get to help maintain and protect your new vehicle.
If you are interested in learning more about what our dealership has to offer, don't hesitate to contact us. Customers can also check out our blog for more helpful information about upcoming events or our vehicles. Stop by the dealership today or contact us!