Here's the thing, life happens to the best of us in Irving and sometimes that means on your busiest day your Toyota key fob stops working, breaks, or disappears. Whatever happened, Toyota of Irving is here to get you back on the road and on with your day as fast as possible in your Toyota vehicle. In this guide we'll cover a Toyota key fob battery replacement, and what to do if you lose or break your Toyota key fob.
How to Replace a Toyota Key Fob Battery
Most likely if your Toyota key fob has suddenly stopped working, then the battery needs to be replaced. In order to find out which battery you need, you'll have to open your key fob case. In newer Toyota models you can do this by pulling out the hidden key and inserting it into a slot specifically meant to open the case. On older models you should be able to use a thin object to pry the case open where there is a noticeable notch on the case. Then, follow these instructions:
Open your key fob with either your key (newer models), fingers, or a thin – but strong – object at the designated notch or slot.
After the case is open, gently lift the circuit board to reveal the battery.
Take note of what kind of battery it is and how it sits in the case. Most Toyota models use a CR2032 battery. These batteries are widely available in Dallas stores and online. They're usually under $5 too, depending on the brand and package size you buy.
Once you have your Toyota key fob battery replacement, put it inside of your key fob case and close it.
Test your key fob to ensure it's working. If it doesn't, open the case again and readjust the battery, making sure the connections are clean and they're making contact with the battery. If the key fob still doesn't work, you may need a Toyota key fob replacement.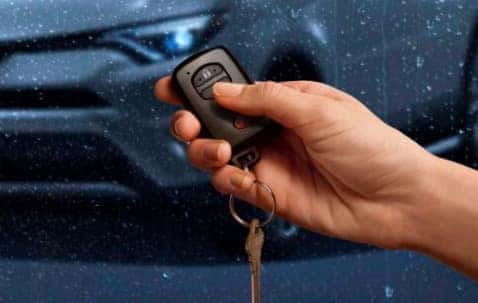 How to Replace a Broken Toyota Key Fob
If you broke your Toyota key fob, you have different replacement options depending on the damage. If you've simply damaged the key, you can get a Toyota key replacement at your local Fort Worth Toyota service center. Technicians can cut you a new key and you will be able to continue using your current key fob.
If you've broken the key fob case but not the electronics inside, you could possibly save some money by just ordering a replacement case. This will depend on the availability of the case and your Toyota dealer though. If you've damaged your key fob completely either through significant exposure to water or physical damage, then you will need a Toyota key fob replacement.
How Much is a Toyota Key Fob Replacement?
If your key fob is damaged beyond repair, or you've lost it and are unable to locate it, then you will need a Toyota key fob replacement. A replacement key fob can run $200 or more, depending on the model — be sure to ask about any parts specials that can be applied. Replacements cost more because key fobs need their physical keys cut and their electronics programmed in order to match up with the correct vehicle.
If you need a replacement key fob for your Toyota, the Toyota of Irving parts center can help.
Get Your Toyota Key Fob Replacement at Toyota of Irving!
At Toyota of Irving, we work hard to make your Toyota key replacement quick and easy. If you need to have your key replaced, repaired, or have a new one ordered, or even if you need a tire rotation, schedule a service appointment with us online and one of our certified technicians will help you find the right key fob for your car and program it to ensure it works properly. Contact us today if you've got any questions.