The Best Burgers in Dallas

When you're looking for a solid meal, there's not much that can compare to a really great burger. Texans are particularly keen on finding high-quality burgers that can stand out from the crowd. After all, us Texans know our beef like few others. So when you're looking for the best burgers in Dallas, you can trust the team at Toyota of Irving. Why? We hear from customers throughout Dallas, Arlington, and the rest of the greater DFW area, so we know about the best eats around! Read on to learn about the best burgers in Dallas.
Off-Site Kitchen
If you're looking for burgers with a truly handmade feel, then Off-Site Kitchen is a great spot to consider when looking for the best burgers in Dallas. With more than 15 burgers on their menu ranging from classic to crazy, you're sure to find something you'll like! They don't just offer burgers, either, so even if you were set on finding the best burgers in DFW, you might end up with something else.
Twisted Root Burger Co.
The best burgers in Fort Worth and Dallas have some stiff competition, but with multiple locations, it's hard to compete with Twisted Root Burger Co. Twisted Root offer a fine selection of high-quality burgers, as well as hand-crafted sides. And they don't just offer beef burgers either–they also have a selection of exotic meats available ranging from ostrich to elk!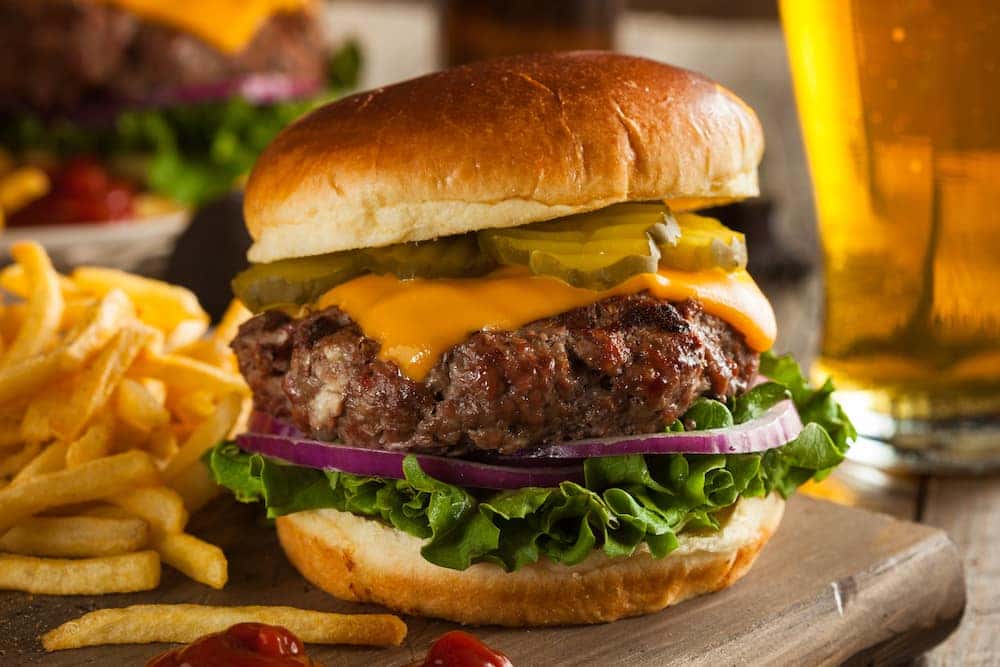 Blues Burgers Dallas
With two choices of beef blends and a finely honed selection of the best burgers in DFW, Blues Burgers Dallas is a local treasure. This award-winning burger joint is great if you're looking for burgers made from locally-sourced goods, then you're in for a real treat! They're also known for their desserts, so make sure to save some room!
Rodeo Goat
Located in the heart of the Design District, Rodeo Goat is great for when you need the best burger in Dallas near downtown. Those looking for the best burgers in Irving may want to steer their course to Rodeo Goat instead, as their location is only a short drive away and their menu is definitely worth the trip. They also have a lengthy cocktail menu and craft beer selection to help suit a wide range of tastes!
Find Burgers, Dallas Events, and More with Toyota of Irving!
At Toyota of Irving, we don't simply offer a selection of new Toyota models and fine used vehicles, we also love helping our customers find everything from the best burgers in Dallas to local events! If you'd like to learn more about the best burgers in Irving, the best seafood restaurants in Dallas, the best tacos in Dallas, or want more local tips, don't hesitate to contact us online!
More From Toyota of Irving
Are you looking to take advantage of the roomy and comfortable interior of the 2020 Toyota 4Runner? This midsize SUV is perfect for Irving family vacations with its versatile interior and powerful towing capacity. With a standard towing capacity of 5,000 pounds,* the new Toyota 4Runner can pull everything you need for your next trip…

The Toyota Highlander has received rave reviews from Irving drivers for it's capability, interior comfort, and cargo room. Newly designed in 2020, the Highlander has proven to be tough competition for other SUVs in its class. Read more about the Toyota Highlander customer and critic reviews below, including the Toyota Highlander hybrid review, then learn…

You have places to go, people to see. So you need a car that will get you from point A to point B and all around the Dallas area without pouring your wallet into your gas tank. A car like the Corolla. The 2020 Toyota Corolla mpg ratings set it apart from the competition, with the…